All-Terrain Kamado Kart
Regular price
$329.00
(In stock)
*Kong not included*  The all-Terrain Kamado Kart takes your Kong, or nearly any kamado style grill, and prepares it to tackle backyards, trailer ramps, gravel, sand snow and anything else you can push or pull it over! No longer is your kamado reserved for the patio — now you can safely move that...
*Kong not included* 
The all-Terrain Kamado Kart takes your Kong, or nearly any kamado style grill, and prepares it to tackle backyards, trailer ramps, gravel, sand snow and anything else you can push or pull it over!
No longer is your kamado reserved for the patio — now you can safely move that heifer of a grill anywhere you choose! 
Buy a Grilla Grills kamado grill cart for your Kong, or any other egg-style grill. You'll wonder how you ever grilled and smoked without the most sturdy, versatile all-terrain cart on the market. Engineered to be tough as nails, the kamado kart protects your grill and elevates your cooking game.
As Tough as It Gets: The Grilla Grills All-Terrain Cart
Just like everything else we come out with, this cart is made to stand the test of time and take a serious beating. With its heavy-duty 14-gauge steel frame, all-terrain legs, an extra-wide base, and 8-inch solid rubber wheels you can easily maneuver your heavy ceramic grill where you never could before.
We've engineered the kamado grill stand to perfectly balance and hold your Kong or other egg-shaped grill. Strap down the grill and go wherever you like. From the beach to the mountains, the all-terrain kamado cart will keep your favorite smoker grill safe and sound.
Why You'll Appreciate Ordering an All-Terrain Kamado Kart From Us
We're like you. We love upping our pitmaster game whenever possible. We also don't like to be bogged down or held back. The kamado grill cart allows you to pack up and move your Kong wherever you like. Plus, we've made putting the cart together a breeze.
What's there to love about the directions that come with every Grilla Grills all-terrain cart purchase?
They're super easy to follow: We literally have laid out everything in a way that makes it simple for you to just hunker down and build out your grill stand. Don't waste time feeling frustrated from confusing directions. Ours are the best because they're written in simple lingo.
You probably already have the tools: Check out the tools in your toolbox or garage. You likely already have everything you need to put this grill stand together. If you don't, just ask a neighbor. But make sure to promise that you'll repay them with a masterpiece on your Kong like brisket, kabobs or steak.
The project won't take you forever: Who wants to lose hours and hours building a piece of handy equipment? You want to get to grilling and smoking. We get it. It should only take about an hour or so for you to put together your solid all-terrain cart. 
You can turn the experience of putting together your kamado kart into a family adventure: Have a young, budding pitmaster in your household? Tackle building the cart for your Grilla Grills Kong side by side. It's a fun way to teach your future grill master the ropes.
Get All the Benefits of a Solid All-Terrain Grill Cart
We receive a lot of feedback on all our products. Some of the biggest thumbs-up we've gotten about our kamado grill cart include:
It handles like a reliable truck over all sorts of surfaces.
It helps you provide protection for your Grilla Grills Kong against the elements and curious critters.
It makes your grill portable.
It enables you to make better use of your whole yard, which is particularly exciting if you own a large lot.
Upgrade Almost Any Egg-Style Grill
The All-Terrain Kart was designed with our Kong in mind, but it also holds most egg-shaped grills. Meaning you can upgrade your stock nest and finally feel confident moving your grill around. We've included some grills we know fit the cart, if you don't see yours on the list, follow the instructions below to make some measurements and find out!
Big Green Egg - Mini, Small, Medium and Large
Kamado Joe - Classic 1, 2 & 3 
Primo Kamado All-In-One, Oval JR 200 
Lonestar Chef K24B, K22B, K15C, K15B 
Vision B & M series 
Pitboss K24 & K22 
Louisiana K 24, 22, 18, 13 
To make sure your grill will fit, we just need to take a couple measurements. From the bottom edge of your grill, measure directly upward 5 7/8" and mark the line with a piece of tape. Now, measure the circumference of your grill from this mark. If the circumference is smaller than 70 5/8" than your grill will fit!
Order an All-Terrain Kamado Kart From Grilla Grills Today
As we said earlier, the Grilla Grills All-Terrain Kamado Kart is built rock solid and designed for anywhere you may take it. The frame boasts numerous mounting and bungee ports, allowing for secure transportation and tie-down of all your equipment. The pull handle allows you to easily move it across sidewalks and trailer edges. In addition, you can use the removable brackets on the side to store all your side tables, diffusers, and cooking racks.
Bring your kamado to the party, and move it with confidence with the Grilla Grills All Terrain Kamado Kart. 
Ordering a Kong today for you or a pitmaster in your life? The all-terrain grill cart makes an excellent add-on. Just include it when you make your purchase, and we'll ship your Kong and cart right to your door!
Shipping:
Please allow three (3) to seven (7) business days for shipment of in-stock items. We make every effort to produce your order as quickly as possible.
Free shipping applies only to orders above $49 in the contiguous US. For details on shipping to Canada click here.
Due to COVID-19 shipping may be delayed further than projected
Returns:
We accept the return of products that are defective due to defects in manufacturing and/or workmanship for 30 days from the date of purchase. Any fulfillment errors we make resulting in shipping incorrect products will also be accepted for return 30 days from the date of purchase.
RMA:
You must request and receive a Return Merchandise Authorization (RMA) number prior to returning merchandise. At that time, you will be advised on shipping.
Customer Reviews
Write a Review
Ask a Question
10/15/2020
Lawrence G.
United States
10/09/2020
Louis N.
United States
I recommend this product
Perfect Compliment for your Kamado Grill
My Grilla Grills Kamado looks amazing on this cart! Not only do I not have to worry about moving it but it is also a show stopper when people see them together. If there are time when you have to move your Kamado this accessory is a must. The only issue I have is that the Grilla grills cover that I bought with my Kamado doesn't fit it now that I have put it on the cart and I wish there was a cover that would fit the grill and cart better. I would definitely recommend this purchase. You will not regret it.
10/02/2020
Tom W.
United States
I recommend this product
All Terrain Cart
The cart is exactly what I needed. We had recently moved and I no longer have a concrete patio. I now have to roll the grill out of the concrete garage onto our crushed granite driveway. The small casters would sink and make it very difficult to move the grill. I almost tipped it over once. This cart allows me to cook now without worrying about damaging my grill.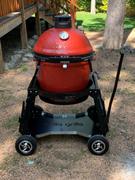 We thought the Kart was a great idea, and it seems like everyone who's received one has as well!
09/07/2020
Aaron L.
United States
I recommend this product
Cart for KJ Classic iii
I got this cart to replace the OEM KJ cart, which is pretty good, but the casters kept loosening over time when moving the grill in and out of the garage. This Grilla cart came with some quality pieces and was fairly easy to assemble. I was slightly concerned about the "universal" fit of this cart when comparing the circumference of the nest to the base of my KJ Classic. Luckily the weight of the grill, and depth of the nest should make this a non-issue for my purposes. I gave it a practice run of the garage threshold, with no shifting. I'd have zero concerns with the KJ strapped down at all 3 tie-down spots of the cart. However, the straps provided are far too short to strap the KJ in from the two spots in front. This should be a cheap and easy replacement, but is also worth being mentioned. Other than that, I have no regrets and would highly recommend for any curious/potential suitors with similar grill sizes/models. Good luck, and thanks Grilla Grills!
08/26/2020
Alex V.
United States
I recommend this product
Great cart for my medium BGE!
Overall a nice improvement over the standard BGE nest. The assembly instructions are the best I've ever seen. Everything was spelled out plainly and with a few simple hand tools it went together without a hitch. The included hex head bolts were grade 5, and the bolts used for the axles are grade 8. That was really quite surprising given that they could have saved a few bucks and just punted with cheap fasteners. The welds aren't much to talk about, and appear to have minimal ***********, but I think they'll do the job just fine. The finish is powder coat and should hold up for a very long time. The nylon straps are a little hard to tension, but that may not be a problem. I may have wanted to cinch them down too much for their intended purpose. The grill does move back and forth a little, but there is no way it can tip out of the cart. My only complaint is that the turning radius is fairly wide. And the casters (wheels?) don't lock. A beast like this thing should be expected to steer like a pickup truck, but something to stop it from rolling on a slightly uneven paved surface would be a definite improvement. All in all it's a great product, but wheel chocks are a necessity on any sort of paved surface. Buy it! You'll like it!
Thanks so much for sharing that feedback Alex! Always appreciate it when people let us know what they like and don't about our products. We're always open to new ideas on how to make things better!