Alpha Grilla Wood Pellet Smoker Grill
Regular price
$849.00
(In stock)
As thanks for your support this year, we're offering some free gifts with each Grilla purchase for a limited time! If you purchase now, we'll add in one bag each of our Hickory and Competition Blend Pellets, a bottle of our Thick & Bold sauce, and a bottle of our...
Read more >
As thanks for your support this year, we're offering some free gifts with each Grilla purchase for a limited time! If you purchase now, we'll add in one bag each of our Hickory and Competition Blend Pellets, a bottle of our Thick & Bold sauce, and a bottle of our All Purpose Rub!
The Alpha Grilla wood pellet smoker grill features convection grilling airflow for Pro-Smoke barbecue smoke flavor and is equipped with Alpha Smoke Dual Controller. The Alpha Smoke technology lets you choose between Grilla's traditional temperature control mode to maximize smoke or use our new PID controller to tightly control temperature throughout the cook. The Alpha Grilla's EvenTemp Chamber, Keep Heat Swing Lid and Never Flare Flavor Disk produce a consistent heat and smoke level in the cooking chamber. Other features that make the Alpha Grilla stand out from the pack is the convertible, two-tiered stainless-steel cooking surface and the convenient autostart feature which means no more messing around with matches or lighter fluid. The Alpha Grilla is also easy to move with its included EZ glide wheels, while the powder-coat finish, and stainless-steel work surface are built to last.
Alpha Grilla Wood Pellet Smoker Grill Features:
The Alpha Grilla offers you cooking control never before seen in a wood pellet grill, with the option to use our standard mode controller or a PID controller. Our standard mode allows for temperature swings designed to maximize smoke, while the PID mode lets you stick closely to your desired temperature. The Alpha Grilla lets you adjust temperatures between 180 and 500 degrees and the digital control panel and included meat probe let you monitor the temperature of your meat as well as your grill. The Alpha Grilla's Never Flare Flavor Disc and blower fan keeps the flames away from your food and also allows for convection-style cooking that makes your food cook evenly (and deliciously!). On top of all these features, the burn grate and firepot are both built to last as they are made of durable stainless steel.
The Alpha Grilla's unique shape isn't just for looks either. The round shape eliminates hot and cold corners while the swinging lid allows you to keep heat in when you check on your food. The lid not only keeps in heat, it's also a lot easier to use than other grill lids as you can leave it partially open with zero effort, letting you work with both hands.
The Alpha Grilla's Interior:
The Alpha Grilla's interior gives you the ability to cook for a crowd or for yourself. The upper grate pops out allowing you room for whole chickens, turkeys and roasts. The fire area is insulated, and the grates are made from ¼-inch stainless steel rod. Here's how the interior measures up:
Main Cooking Area: 21=346″
Upper Cooking Area: 142″
Total Cooking Area: 488″
The Alpha Grilla's Exterior:
The Alpha Grilla's exterior offers as much style as it does functionality and durability. The front pivot wheel has a foot lever that makes moving your Alpha a breeze. The exterior is powder coated for a long-lasting finish that can stand up to the elements as well as high heat. The Alpha Grilla won't run into problems with too high of heat however, as the automatic shutdown feature kicks in if the grill exceeds 615°F or falls below 110°F. Additional high-end features include a healthy 20-lb. hopper capacity and a grease catch that holds standard cans.
Durable Construction
The Alpha Grilla is so much more than the cheap grills you'll find at your average big box store. The construction is rock-solid, made with heavy-steel construction including a rugged stainless steel fire pot, stainless steel side trays, stainless steel internal components and a thermal metal jacket for year-round cooking efficiency. The 5-inch rubber wheels will help you move your Alpha Grilla when you need to, and are rugged enough to last.
The Alpha Grilla's EZ Fuel Change Out allows you to quickly and easily switch the variety of pellets you're cooking with for different flavor profiles. The "no-mess" cord storage eliminates tangles and keeps cords tucked away and out of your way. The fully enclosed fan and auger motor have a maintenance panel in the rear to allow easy access to the auger motor and fan if and when you need to take a look at those. The fire pot and igniter are simple to remove which makes for easy, fast cleanup.
Quick Assembly:
When your Alpha Grilla arrives on your doorstep you won't spend hours putting it together. Just attach the trays, plug it in, and load it up with your favorite wood pellet fuel.
Power Requirement:
The Alpha Grilla is powered by a standard household three-prong outlet: 120 Volt 50/60hz.
Dimensions & Weight of the Alpha Grilla Wood Pellet Smoker Grill:
Height: 44 in.
Width: 31.5 in.
Depth: 29.5 in.
Weight: 145 lbs.
Shipping:
Please allow three (3) to seven (7) business days for shipment of in-stock items. We make every effort to produce your order as quickly as possible.
Free shipping applies only to orders above $49 in the contiguous US. For details on shipping to Canada click here.
Due to COVID-19 shipping may be delayed further than projected
Returns:
We accept the return of products that are defective due to defects in manufacturing and/or workmanship for 30 days from the date of purchase. Any fulfillment errors we make resulting in shipping incorrect products will also be accepted for return 30 days from the date of purchase.
RMA:
You must request and receive a Return Merchandise Authorization (RMA) number prior to returning merchandise. At that time, you will be advised on shipping.
Customer Reviews
Write a Review
Ask a Question
11/20/2020
George W.
United States
I recommend this product
Kona Grill
Great! So far so good.
11/20/2020
Ron N.
United States
I recommend this product
New owner
Easy to buy. Easy to set up. First burn/seasoning at this moment. Even that is easy. Once burn off finished I enjoy the pellet smell competition blend.
11/19/2020
Jeanette M.
United States
I recommend this product
Everything is so tasty! So easy to use.
We've made a handful of things already and can truly start it and walk away until it's done. So convenient and tasty!
NS
11/14/2020
Nilsa S.
United States
I recommend this product
Hey Grilla Hey!!
We purchased a Grilla pellet smoker and have been using it non-stop. It's so easy to start up and is really hands free when it comes to maintaining temperature. We've smoked Italian sausages and pulled pork, delish! We also smoked jalapeño poppers and potato skins and both were a huge hit. Excited to continue experimenting with food and to ge a part of the Grills family.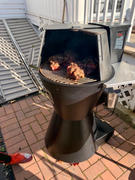 Trying new things tends to be everyone's favorite pasttime after getting one of these. Even old school recipes can take on new flair with the Grilla!
11/11/2020
Gary T.
United States
I recommend this product
Best purchase ever
Have been thinking of moving up from my entry level electric smoker for awhile and starting researching pellet smokers. I kept reading about all the positive experiences others have had with Grilla Grills. Not only with the product itself but with the exceptional level of customer service they've received whenever they needed it. I'm not to far from Holland, Mi. so I decided to take a drive and check them out in person. My intention was to check them out and think about it but once I saw, touched and spoke with someone decided on the spot I wanted the Alpha Grilla. Fortunately I drove there with my truck so was able to load one up and take that day. Haven't regretted it a bit. I've cooked some of the best meals I ever had and have received many great compliments on my food. Thanks Grilla for an outstanding product. I'm looking forward to many years of delicious food.
That is a fantastic example of what happens to a ton of people Gary! Once you get your hands on one of these grills, and have a little experience with them, you realize quickly how awesome they are!